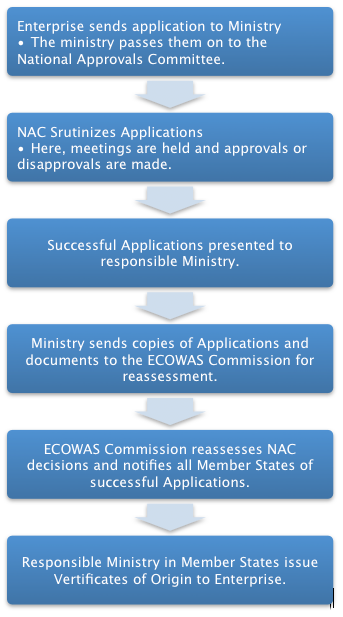 The procedures for approval consist of two processes: the Enterprise procedures and the National Approvals Committee procedures.
Enterprise Procedure: The enterprise sends its completed application form and all supporting documents to the ministry responsible for ETLS matters in the country concerned.
National Approvals Committee Procedure: The Ministry sends completed application forms to members of the National Approvals Committee (especially set up to scrutinize ETLS applications). The Committee holds a series of meetings and discussions to examine all ETLS applications brought before it at the time. Approvals or disapprovals are then recommended.
The report of the Committee recommending approvals and disapprovals is submitted to the responsible Ministry which sends the report and dossiers on the recommended approvals to the ECOWAS Commission.
The ECOWAS Commission reassesses the applications and if satisfied with the NACs approvals, sends out notification letters to all Member States informing them of the newly approved enterprises and products.
It is after the notification letters are sent out, that approved enterprises obtain the Certificates of Origin for their approved products from their responsible Ministries.